---
Biology as Poetry: Genetics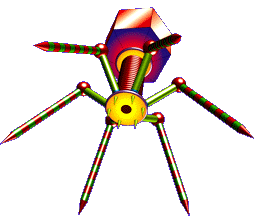 Semiconservative Replication
<!!a href="template.html" title="template">Templated DNA <!!a href="polymerization.html">polymerization in which a double helix is converted into two double helices, each of which consists of one <!!a href="daughter_strand.html">daughter strand and one <!!a href=partental_strand.html">parental strand.

Semiconservative replication is a fancy name for what you should recognize as simply the way that DNA replication takes place. That is, replication forks are initiated at origins of replication, leading and lagging strands are copied, and one ends up with two double helices, each of which consists of a combination of one strand of template DNA and one strand of newly <!!a href="biosynthesis.html" title="Biosynthesis">synthesized DNA?

<!img src="http://www.BiologyAsPoetry.com/images/semiconservative_replication.png" alt="Semiconservative replication" title="XXX" ID=Image_1 border=0>

For more on this topic, see Wikipedia and Google. Contact web master. Return to home.