---
Biology as Poetry: Genetics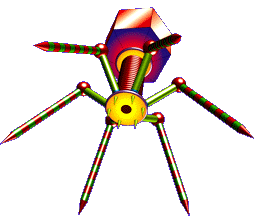 DNA Ligase
Enzyme responsible for generating phosphodiester linkages between <!!a href="single_stranded.html">single-stranded nucleic acid polymers, prominently such as Okazaki fragments.

DNA ligase is responsible for repairing what are known as <!!a href="nick_DNA.html">nicks in DNA. In addition to remaining from Okazaki fragment production, such nicks are present following certain kinds of <!!a href="DNA_repair.html">DNA repair as well as molecular recombination.

<!img src="http://www.BiologyAsPoetry.com/images/DNA_ligase.png" alt="DNA ligase" title="XXX" ID=Image_1 border=0>

DNA ligase is an important component of the molecular biologist's toolkit. It is responsible, particularly, for covalently integrating to-be-cloned DNA fragments into plasmids vectors.

To some degree DNA ligase, within these applications, can be viewed as reversing the action of <!!a href="restriction_endonuclease.html">restriction endonuclease. That is, rather than nicking DNA, DNA ligase removes nicks.

For more on this topic, see Wikipedia and Google. Contact web master. Return to home.